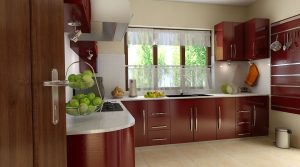 The eating and cooking preferences have been changing since time immemorial and so are the kitchen designs. In the contemporary world where every person in a family has different food preferences, it is highly important to have a kitchen that can accommodate the kitchenware, gadgets and cooktops of all kinds. To help you in doing so, Greentech Interiors, the best interior designers in Kochi, have come up with a wide range of innovative modular kitchen designs and settings for all types of establishments such as homes, restaurants, offices, commercial properties and hospitalities.
With an experience of over 20 years in designing and decorating spaces of all kinds, Greentech Interiors has become a brand name in the world of architecture and décor. Having a team of highly expert and innovative professionals, we promise you completely novel, exquisite and modular kitchen setups of all kinds. Automatic sensor drawers, cabinets, modern grills, compact cooktops with a functionality of cooking in more than one or two manners such as pull-out hot plates etc, stainless steel kitchen set up for a hi-tech and modern look – there are countless gems in the satchel of Greentech Interiors that will never stop impressing our clients.
Modular Kitchen Designs by Greentech Interiors, the best interior decorators in Kochi, Kerala are suitable for all kinds of home set-ups. Be it a small kitchen for two that cook rarely or be it a big kitchen for a joint family in which a sumptuous meal is cooked three or more times in a single day, Greentech Interiors will help you in not only creating a kitchen suitable to your requirements but also in utilizing the space in the best possible manner.
Taking pride in being the best modular kitchen designers in Kochi, Greentech Interiors' team help you get customized modular kitchen design that perfectly fits your space and lifestyle. Interior designing with us comes with so many pros that you will never find yourself re-thinking the choice for an interior designer and we have a track record of bidding only smiling good buys.