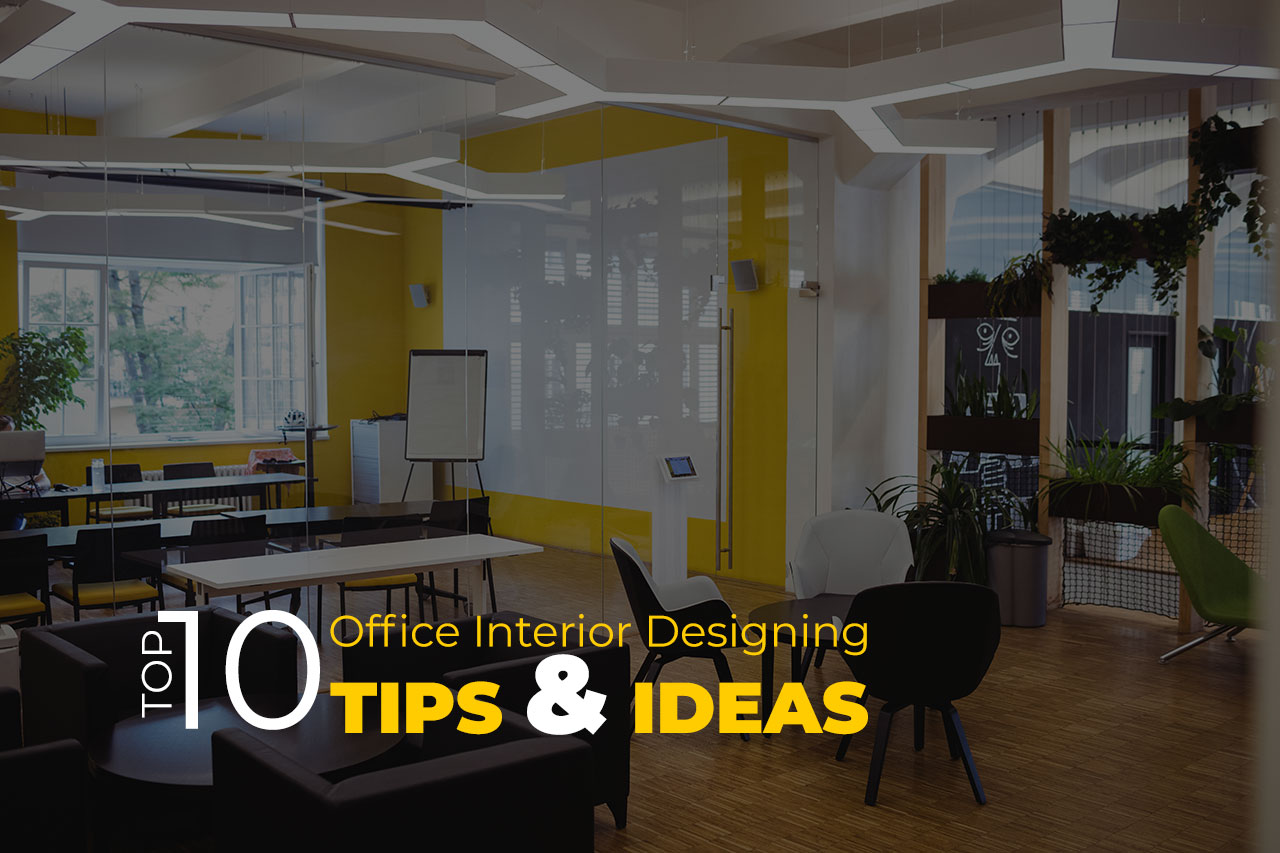 Top 10 Office Interior Designing Tips & Ideas
Renovating an office space is something that is required by almost every office; irrespective of it being run by a Government or any individual. Office interior designing is one of the major factor that reflects the positive ambience to the staffs. The rate of renovation with interior designing, however is more in the offices that are privately run or managed. The need of office interior designing can arise owing to any reason such as the expansion of the staff, obsolete design and furnishings that need to be replaced; opting for a better and ergonomically designed space and last but not in any sense the least, the office needs repair. The following post will outline some tips and ideas you can employ while renovating your office. These tips will save you time, money, effort and of course a lot of headache.
Office Interior Designing Plan
Granted that you are super busy to make a thorough list and that your office is in a bad shape and needs a renovation at the earliest, but the fact that a carefully designed plan saves you a lot of troubles and resources of all kinds can just not be neglected. Plan a thorough visit of all the office space and make a list side by side. Interior designers will help you for renovating new interior for your office space.
For example, you can make a change in office interior designing as follows:
Washroom:
Ladies:

Replace Taps

Replace Floor Tiles

Commode in Stall number 4 is broken

Flush of Stall Number 2 is not working properly

Leakage in Faucet Number 5 etc

Gents:

Replace the urinal number 4

Install a new wash basin etc
Cafeteria:
Need 20 new chairs

Install a modular cabinet system for pantry and utensil storage

Change windows
Bay Area:
Install new Cubicle partitions

Install 20 new cubicles near the networking department

Replace the computer tables in bay area number 1 etc
This type of list will surely help you to make a list that is brief and contains all kinds of troubles.
Choose Wisely
You yourself cannot make any kind of interior designing works in the office. Right?  You need someone to be there and handle all the interior designing works. From purchasing the materials to dealing with the labour; you need someone who can talk in their language to get the things done and in your language to convey the amount of work that has been done.
Hiring an office interior designer is one of the options. Hire someone who can get things done in your budget and within the time range specified by you. Interior designers must be want passion towards interior designing. so choosing good office interior designer may be difficult process. Read the reviews of the previous customers and set the bounds stringently as many people tend to go overboard gradually. This only leads to delay in the completion of work and over-expenditure of resources.
Sell and Buy carefully while doing Office Interior Designing
Furnitures keep major role in office interior designing. Though some pieces of furniture might be in a bad shape and scream replacement or selling away to junkyard; you should spend some time in finding the right disposal process. Selling old pieces of furniture for second-hand listings or to scrap dealers can earn you some money and putting the old furniture with some repairs in areas that are less visited and less obvious such as the cafeteria, open terrace etc can save you a lot of money.
Balance things out before you put your final stamp on buying something new or throwing away something old.
Choose an Office Interior Designer wisely
Choosing someone that has designed the office spaces earlier as well is always a good option. Check out the portfolio of the interior decorators and check whether the services rendered by them are relevant to you or not for renovating office interior designing. Check whether their price suits your budget or not.
Plan a meeting with someone of consequence from their side and find out whether the person is able to understand your requirements or not. This way you will be saving yourself a lot of anxiety and stress.
Constant Conversation with Interior Designer
In case you are absent from the place of renovation, you should keep a track of things with the aid of technology. For example, you can ask someone from the staff to send you a daily report of the work done and the number of days that is still going to be consumed in the process.
If you are present on the site of renovation, be sure to visit the site of renovation and take the estimate of work done daily and you can give suggestions based upon the progress of  interior designing works.
There is one thing regarding the construction and renovation business you should understand carefully – 'The speed of getting things done depends on the involvement and activity of the client'.
Be Active, but be PATIENT as well
Renovation and other such things related to the construction take time and lot of patience. Though the initial interior design might seem odd or something; wait for the final space to get ready. You need to be patient while getting the things done. Cement takes its time to settle; POP takes time to completely dry; varnish and polish on the furniture takes time to set; the plumbing requires time to get ready to use – everything takes time to get done.
Remember, the interior designing works cannot be done year after year. Wait for the things to get ready with patience to ensure that everything is done properly.
Learn the Lingo:
Granted that you have hired an interior designer and that someone from your staff is supervising the whole work, but the fact that your involvement will only bring pace and better finish to the interior designing work being done can just not be neglected. Talk to the workers, the construction men and find out about the materials being used; the amount of time required in finishing the work etc. Talk to them in their language so that they can tell you things without any hesitation. It won't harm your reputation and will keep you informed of the genuine statistics.
Supervise the Buying Process
Be as much involved as you can while making the purchases of any kind. It will ensure that you are not duped and you will buy things that YOU like and YOU want.
Determine the Features that should be changed or saved:
You should yourself finalize the things that should be changed, removed or installed. Finalizing the things should always be done by the owner. This gives the designer an impression that you are REALLY concerned with your space and the staff that you REALLY value the place. Further, it also keeps the things and the work on the track.
Virtual Tours:
Almost all of the interior designers these days provide a virtual tour of the final space even before it is complete. Take a tour so as to understand whether you will like the final space or not. Put the technology to use to have a space that appeals you.
Hope the tips and ideas help you in planning your renovation and completing it successfully.
Happy Renovating ..!!!    
Read More about Interior Designing :